Foliar Disease Management in Corn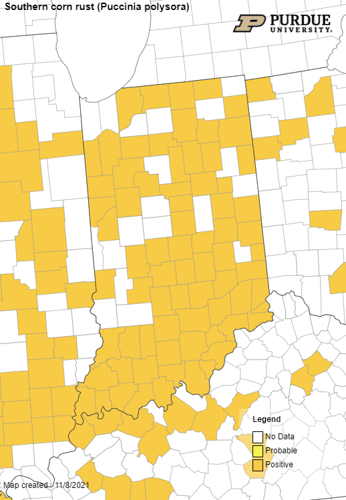 Foliar diseases, such as gray leaf spot, northern corn leaf blight, and southern rust, continue to be of concern to Indiana growers. Dr. Telenko's lab actively monitors for these current and emerging diseases in corn to inform Indiana stakeholders of their potential risks. To do this sentinel and applied research plots are annually established across Indiana. In 2019 and 2020, seven sentinel corn plots were established to monitor for corn diseases. In addition, her lab established in-season statewide scouting efforts to document disease risks in the state. This included participating in the national tracking effort for southern rust of corn.
The ultimate goal of this research will be to improve our understanding of optimum timing and efficacy of foliar fungicides and provide Indiana farmers with valuable information on how to manage foliar disease in corn.
The results from applied research trials on tar spot can be found in the Applied Research in Field Crop Pathology Publication - BP-205-W - Links below.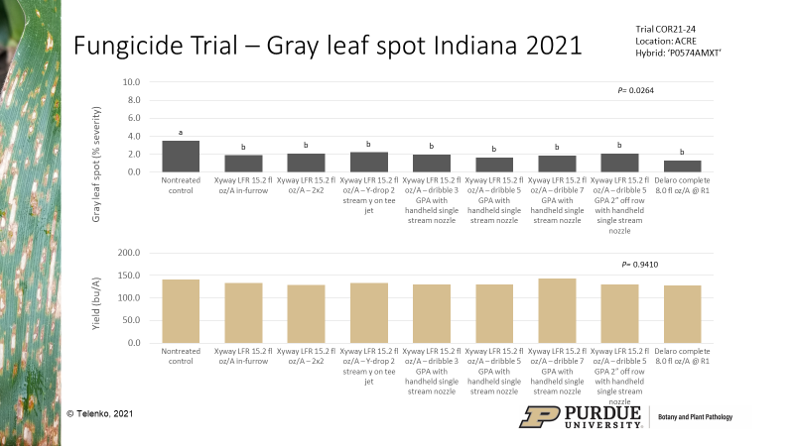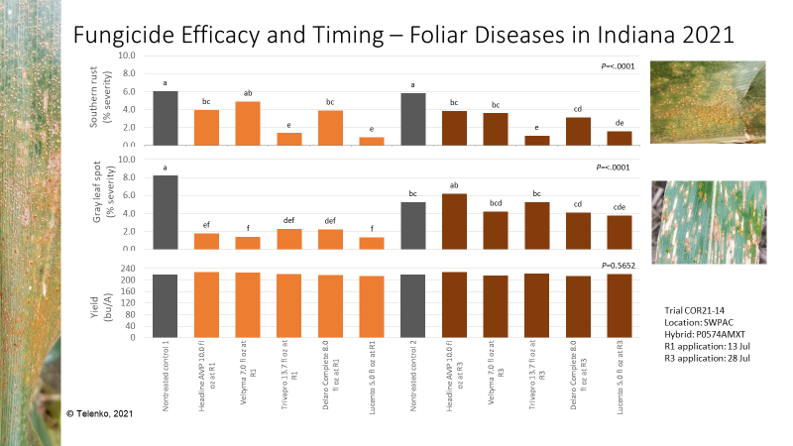 Telenko, D. E. P., Ravellette, J. D., and Wise, K. A. 2020. Assessing late vegetative and tasseling fungicide application timings on foliar disease and yield in Indiana corn. Plant Health Progress. 21:224-229. doi.org/10.1094/PHP-03-20-0022-RS
Corn Disease Working Group. 2022. Fungicide efficacy for control of corn diseases. Corn Disease Management. CPN-2011. doi.org/10.31274/cpn-20190620-002
Corn Disease Working Group. Mueller, D., et al. 2021. Corn disease loss estimated from the United States and Ontario Canada - 2020. CPN-2007-20. Published March 18, 2021. doi.org/10.31274/cpn-20210324-0
Telenko, D., Chilvers, M., Robertson, A., Tenuta, A., and Smith, D. 2021. Will a second fungicide be worth the cost for tar spot. CPN 2018. doi.org/10.31274/cpn-20210820-1
Mueller, D.S., Wise, K.A., Sisson, A.J., Allen, T.W., Bergstrom, G.C., Bissonnette, K.M., Bradley, C.A., Byamukama, E., Chilvers, M.I., Collins, A.A., Esker, P.D., Faske, T.R., Friskop, A.J., Hagan, A.K., Heiniger, R.W., Hollier, C.A., Isakeit, T., Jackson-Ziems, T.A., Jardine, D.J., Kelly, H.M., Kleczewski, N.M., Koehler, A.M., Koenning, S.R., Malvick, D.K., Mehl, H.L., Meyer, R.F., Paul, P.A., Peltier, A.J., Price, P.P., Robertson, A.E., Roth, G.W., Sikora, E.J., Smith, D.L., Tande, C.A., Telenko, D. E. P., Tenuta, A.U., Thiessen, L.D., and Wiebold, W.J. 2020. Corn yield loss estimates due to diseases in the United States and Ontario, Canada, from 2016 to 2019. Plant Health Progress. doi.org/10.1094/PHP-05-20-0038-RS